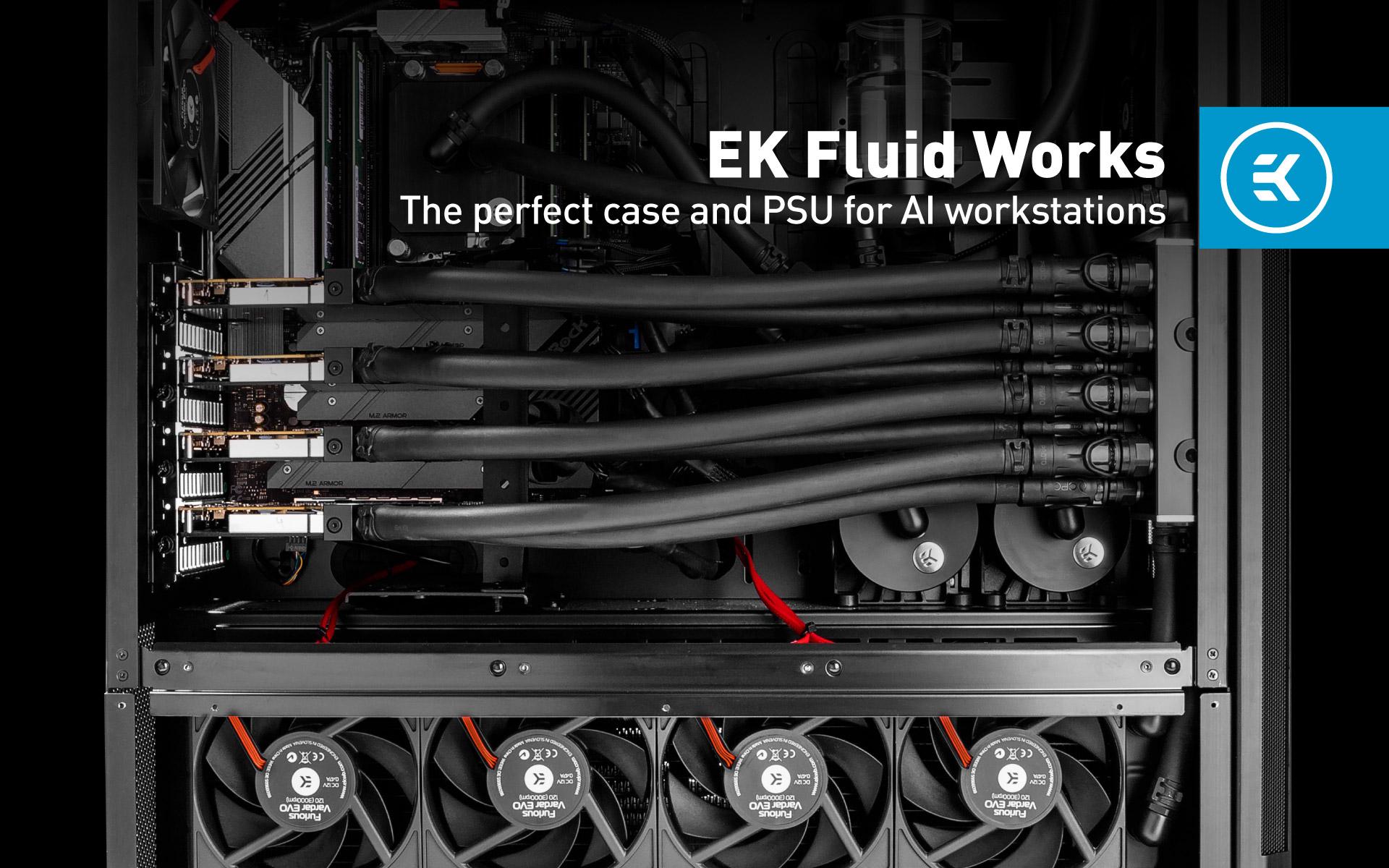 The Perfect Case and PSU for AI Workstations
3/4/2022 10:12 AM
It is often the case that the chassis, PSU and cooling system are an afterthought, and have to make do with what little budget is left. But they can have a profound impact on how well your workstation will perform its tasks, especially compute-heavy workloads like training an AI model.
We will lend you a hand in this matter and help you get the best solution all around.
The Proper Housing for All the Hardware
Now that you have selected the proper CPU, motherboard, storage and GPU, it is time to find a good case that will fit them all comfortably. If you haven't done so already, be sure to check out our previous articles so you don't miss out on any important information.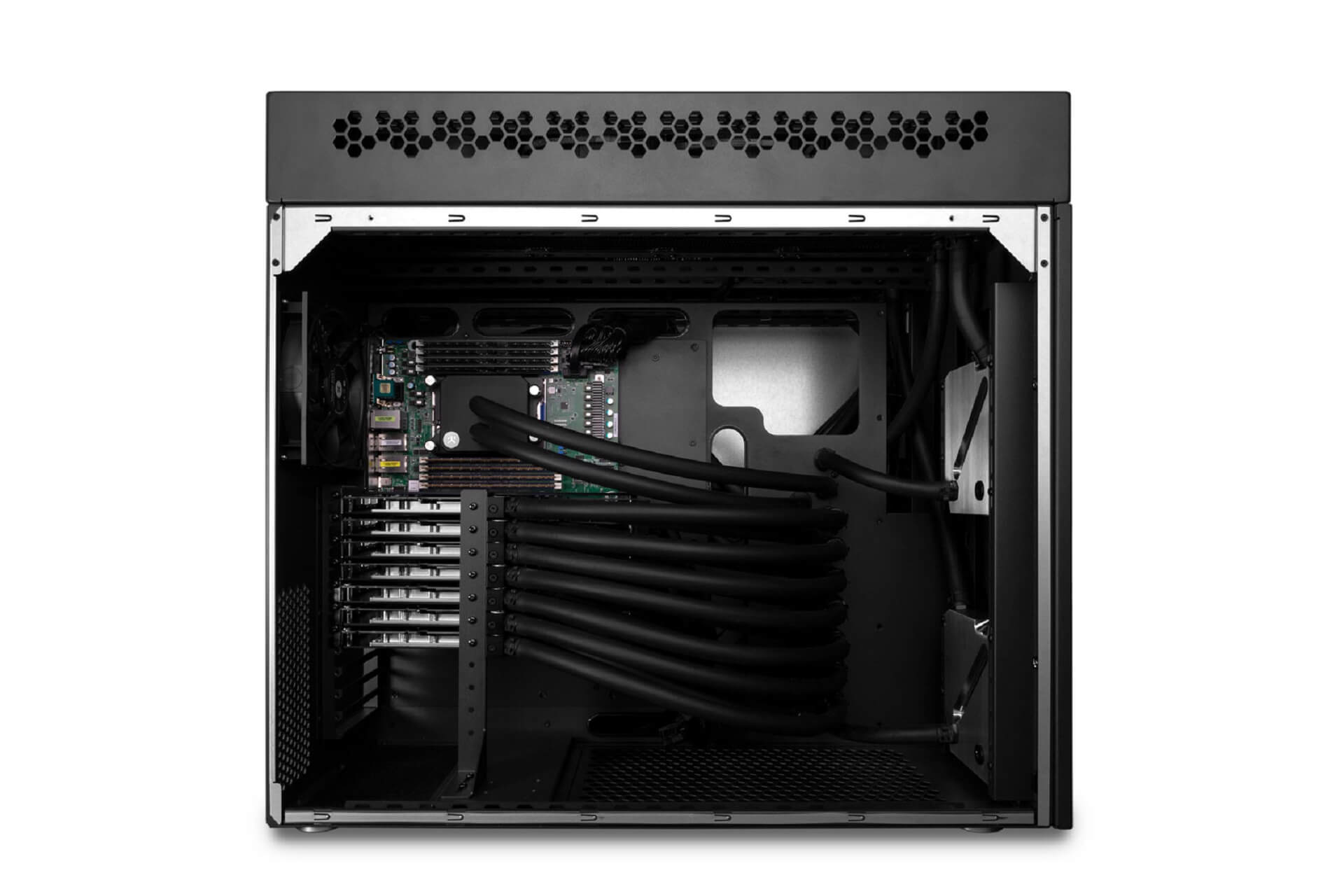 We will mainly focus on standard ATX and E-ATX based platforms, as the more exotic form factors usually fit only in specialized server enclosures. Most standard-sized mid-tower cases support at least ATX and you will usually have to pony up for a larger full tower case to get E-ATX support. The motherboard's form factor is one side of the puzzle. The number of GPUs is another, and having ample room to fit all of the GPUs you'll need is critical. Be sure to read up on the finer details of selecting the right kind and number of GPUs for your machine learning workstation.
In general, selecting a case with 7 to 9 PCIe slot blanks will offer you plenty of room for a 4 GPU setup with proper spacing between them. But be careful. Some cases might not be able to handle the 4th or 3rd GPU in the bottom slots due to the interference with the PSU or PSU shroud. Our Fluid Works Studio series can support up to 4 GPUs. And thanks to liquid cooling, the Compute series is capable of a monstrous 7 GPU configuration.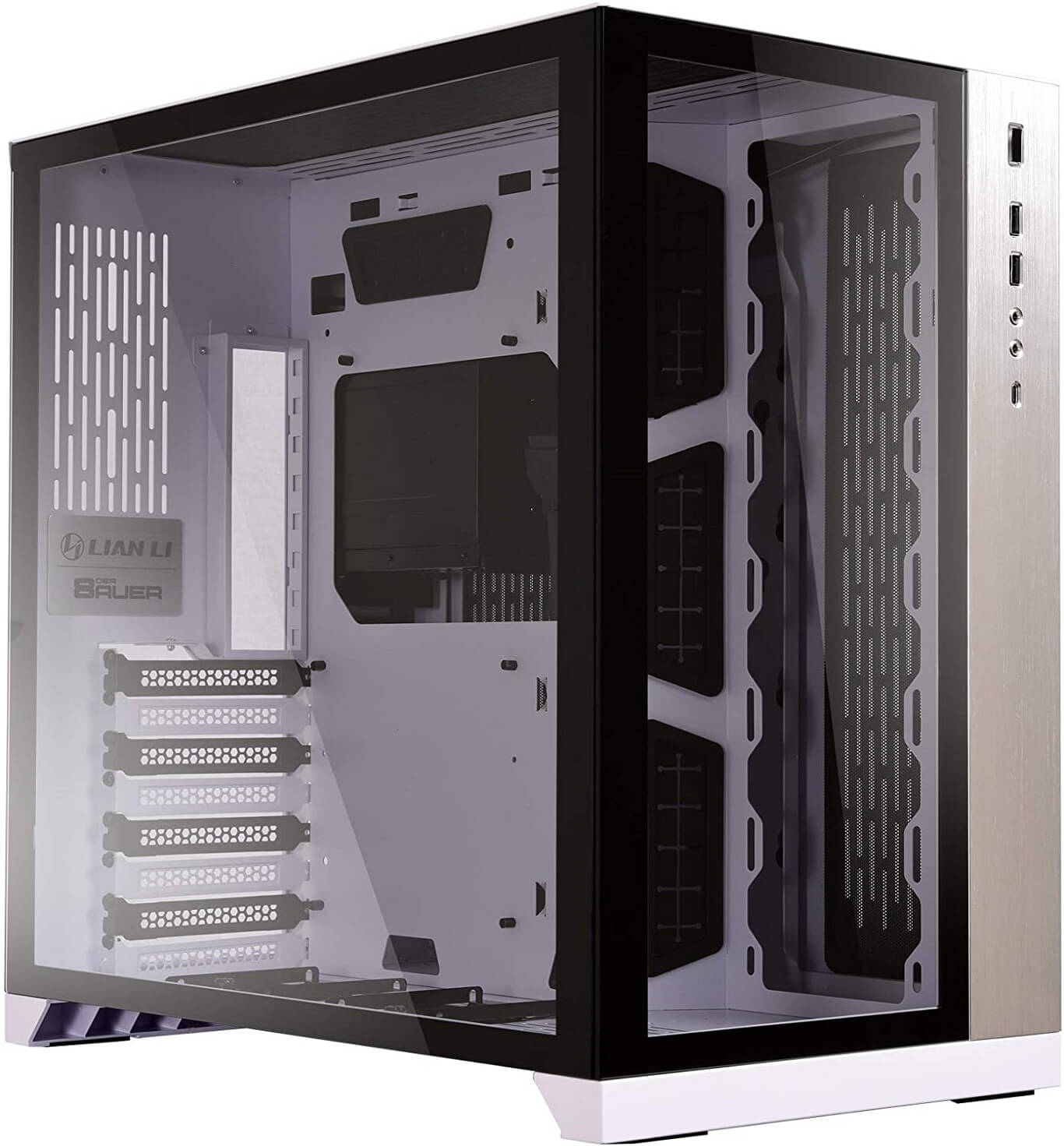 Source: Lian LI
If you can get away with using only 2 GPUs, a more compact case will do just fine. However, larger cases offer more room for storage and spots for extra fans. This will be quite valuable as you want to have enough room to grow your storage array and have enough fresh air moving across the hot components and heatsinks. The type of material used on the front panel is not to be underestimated. You want as much mesh there as possible to enable good air circulation.
If you plan on installing an AiO or going for a custom liquid cooling setup, check out the radiator support. Since we are talking about compatibility, don't forget to check the compatibility specs of the case to make sure that all the GPUs and coolers actually fit inside the desired case.
You may have noticed that we skipped the aesthetics and front panel connectivity. We believe that this is quite subjective and if you adhere to the advice mentioned above, you can pick and choose what your case looks like to your heart's content.
Some reputable case manufacturers are: Lian Li, In Win, Phanteks, Cooler Master, Corsair and NZXT.
The Right PSU for an AI Workstation
Powering all that hardware is no easy feat, especially if you employ all of its computational horsepower. The more powerful CPUs and GPUs, like the AMD Threadripper and NVIDIA RTX 3090, can easily consume over 300W each. Factor in that you will want at least two, four or more GPUs in your case and you are well in the 1.5 KW range. Let's not forget about the fans, possible RGB lighting, HDDs\SSDs and we have an easy 1,6 KW on our hands. And to be on the safe side for any eventual power spikes, you will want a few percent extra power available at all times to smooth those out.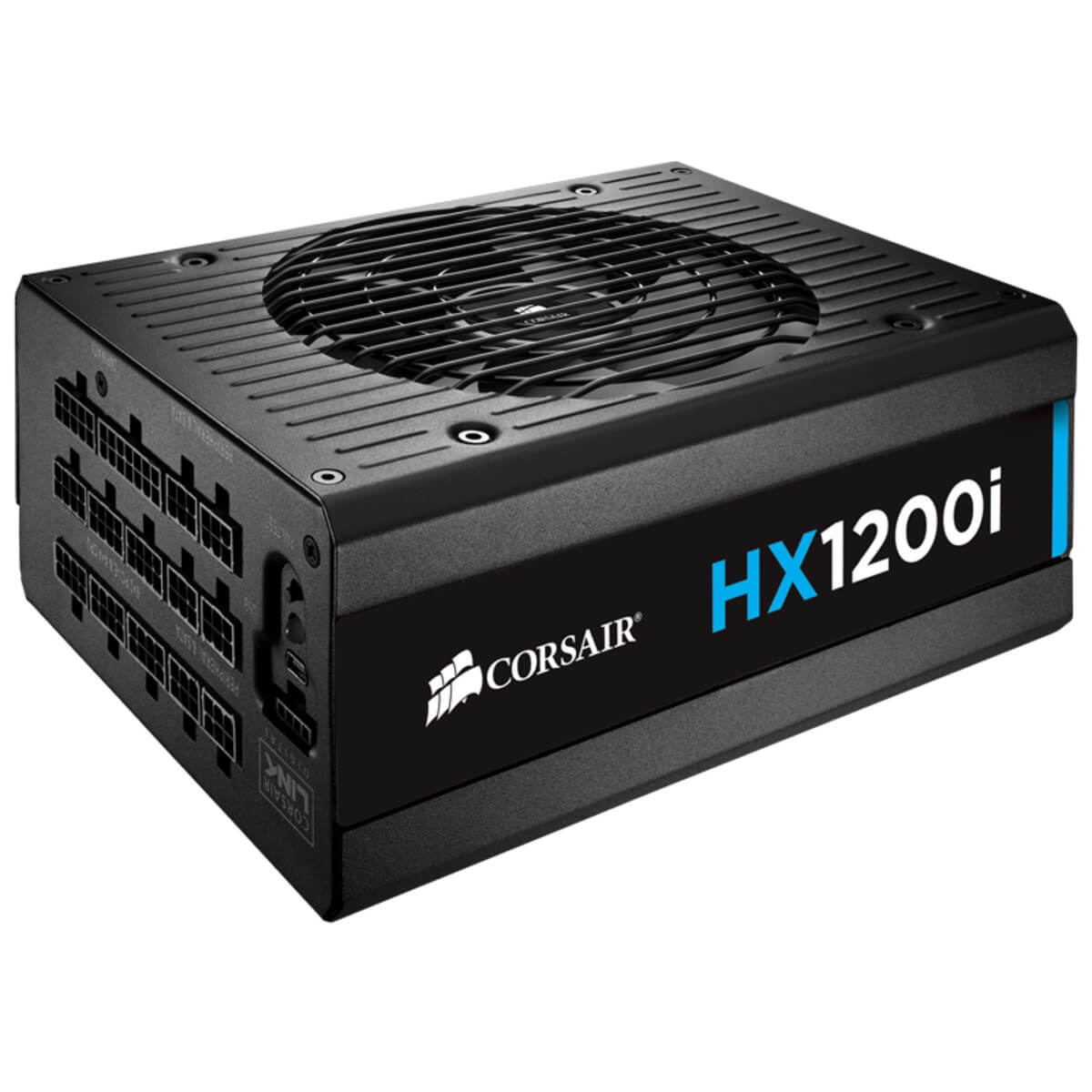 Source: Corsair
Most modern PSU models top out around 1,6 to 2 KW. That means that for a maxed-out configuration you will either have to go for a 2 KW model or utilize two 1 KW PSUs, depending on the availability. Be warned that some cases don't support dual PSUs. The EK Fluid Works X7000, for example, needs dual EVGA 1600W PSUs to power all of its 7 GPUs.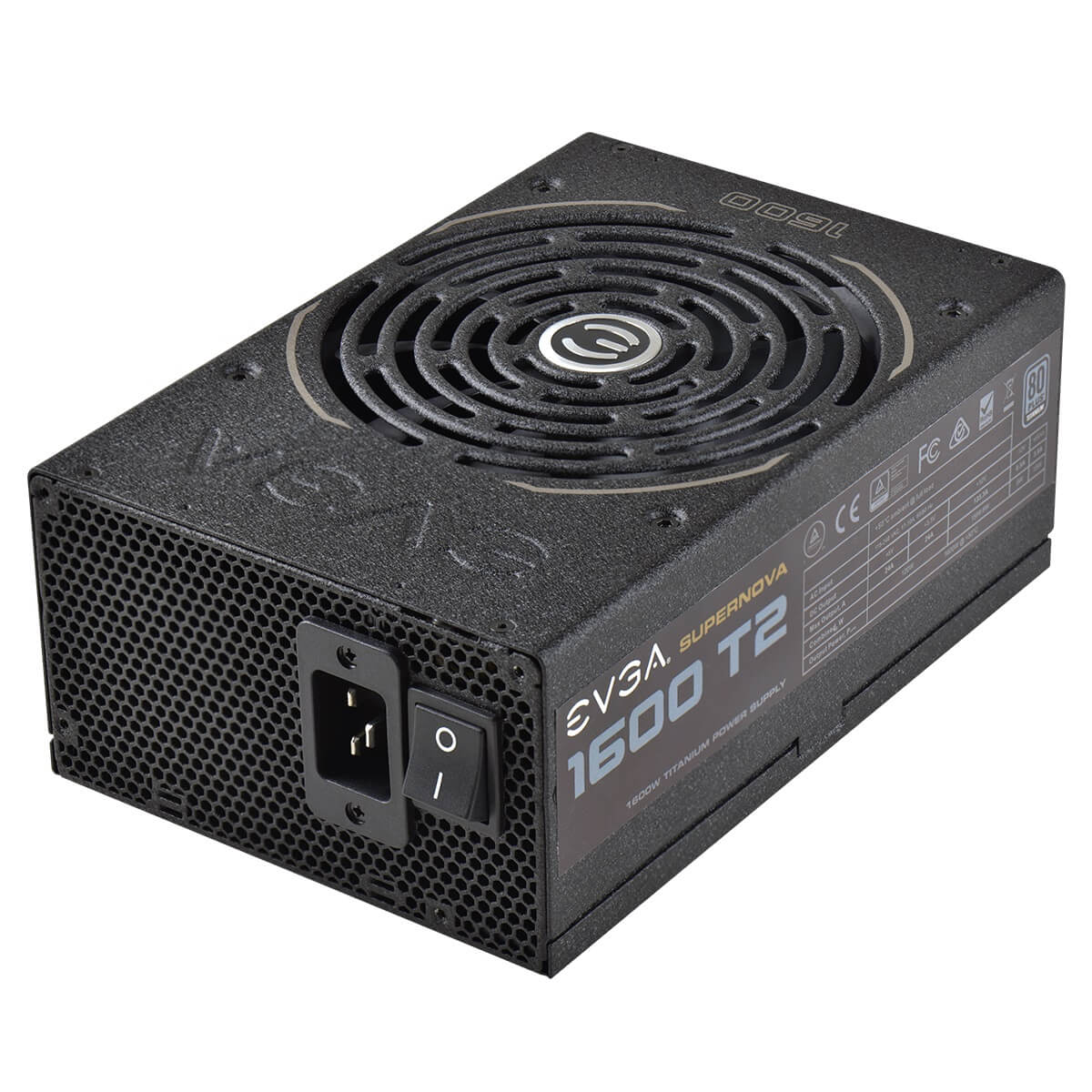 Source: EVGA
The PSU power rating is important, but it is of no use if you run out of connectors for all your components. Be very considerate when choosing one for your AI workstation and make sure that it has enough PCIe connectors for all your GPUs.
Being green and efficient with your power usage at this scale is important, especially with rising electricity costs and the impact on the environment. That is why it is a good idea to go for the more efficient, although initially more expensive, PSUs. Look for the 80 Plus Gold rating or higher, ideally Platinum or Titanium. The higher efficiency ratings come with a bonus of higher quality components being used in the PSUs construction, so it will last longer and be more reliable.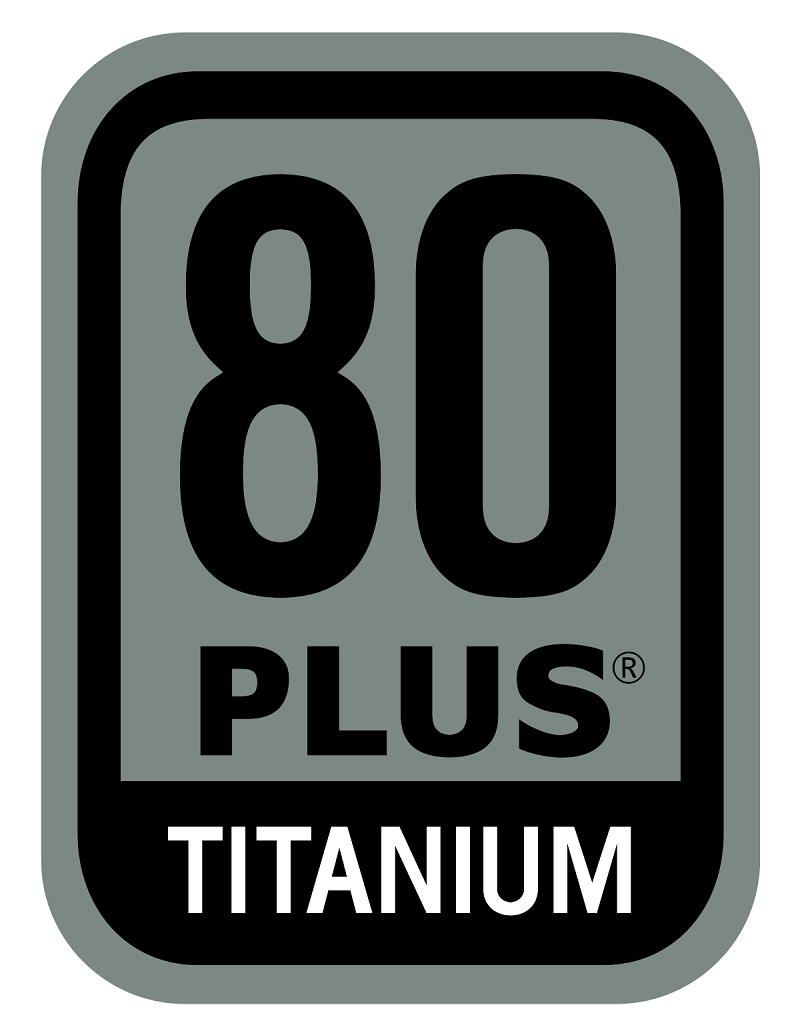 A PSU serves one more important role - protecting your components from electrical faults. In the event of a short circuit in one of your components or poor power delivery, it will safely shut down and prevent any further damage.
Some reputable brands that are known for quality and reliable PSUs include Seasonic, EVGA, Corsair, Super Flower, Cooler Master and FSP.
EK Fluid Works workstations all come equipped with high-quality EVGA power supplies in the 1200W and 1600W range, which guarantee a long and reliable service life. Configure yours today!
Wrapping up
We are almost at the end of our AI workstation journey and we hope you enjoyed reading up on all the insights on how to properly select a case and PSU for your machine learning needs. Be sure to follow up on our future articles to learn more about the different methods of cooling an AI workstation.
Have a question?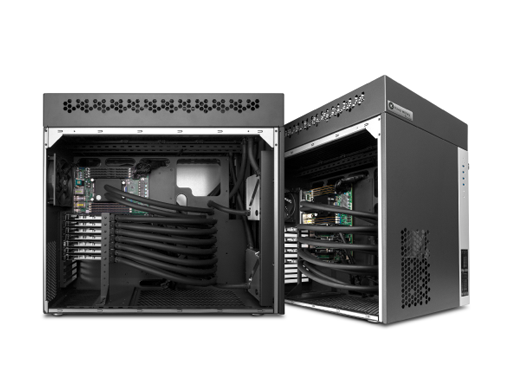 Get in touch