The Best 3D Modeling Computer of 2023
Getting the best PC for your particular 3D modeling workflow can be an ordeal. To ease that process, we have carefully prepared a selection of liquid-cooled workstations. They are ideally suited for the most demanding 3D modeling and rendering software suites in the industry.
View Workstations
Most Popular configurations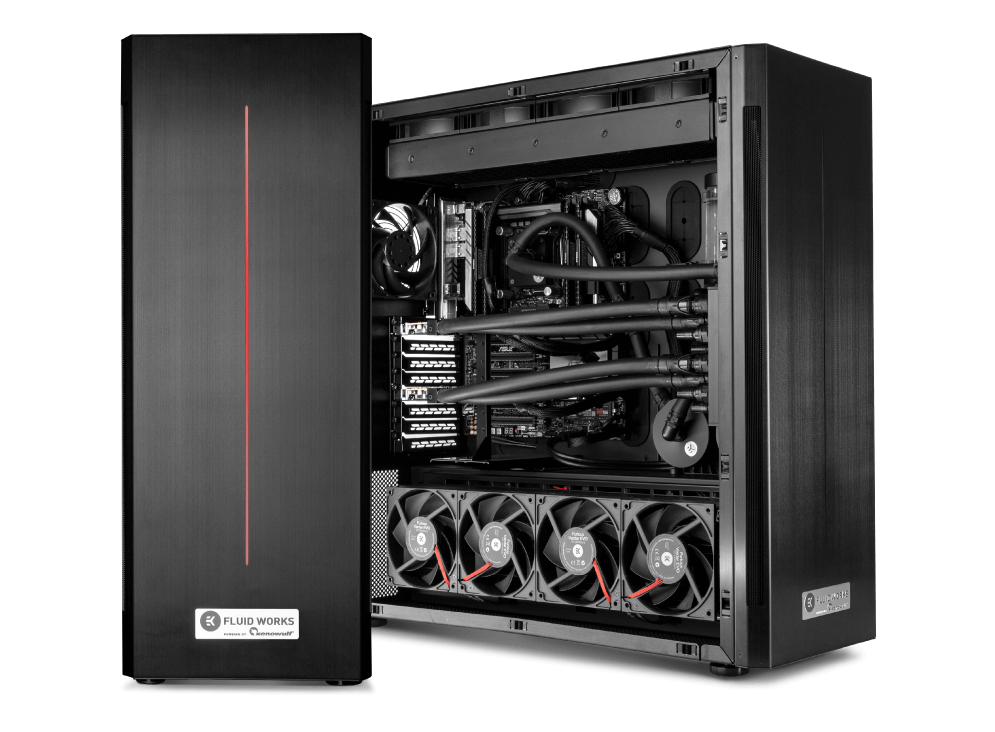 EK Fluid Works S3000
from $6,610
ASUS ProArt B550 Creator
AMD Ryzen 9 5950X
32 GB memory; 500 GB SSD storage
1x NVIDIA GeForce RTX 3080 Ti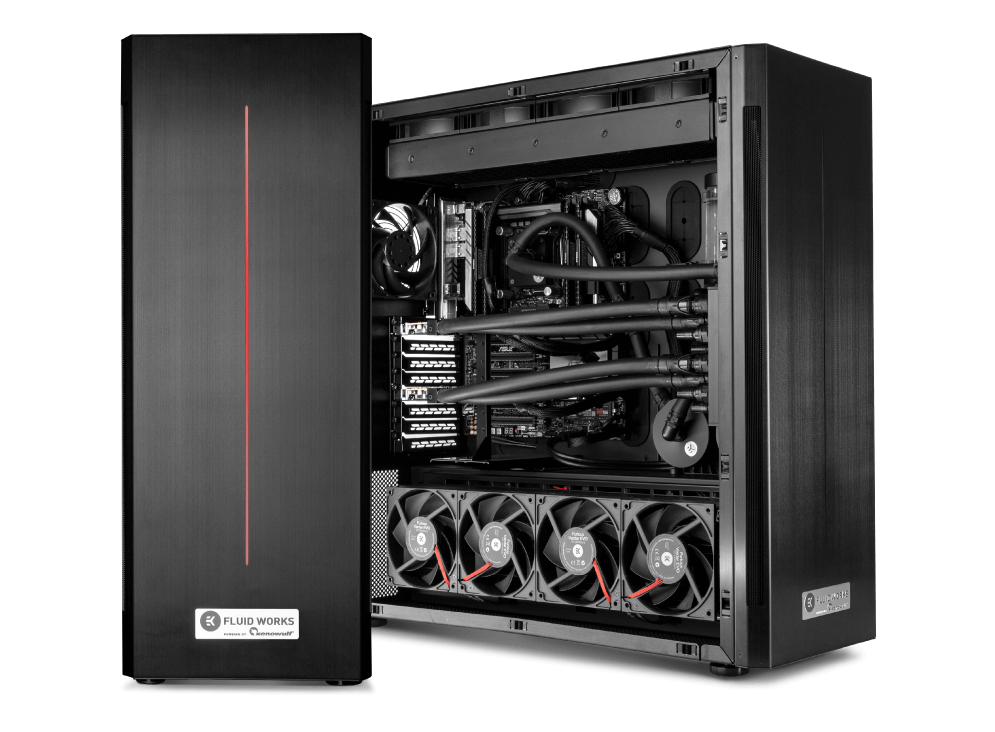 EK Fluid Works S5000
from $10,683
ASUS X570 Creator
AMD Ryzen 9 5950X
128 GB memory; 500 GB SSD storage
2x NVIDIA GeForce RTX 3090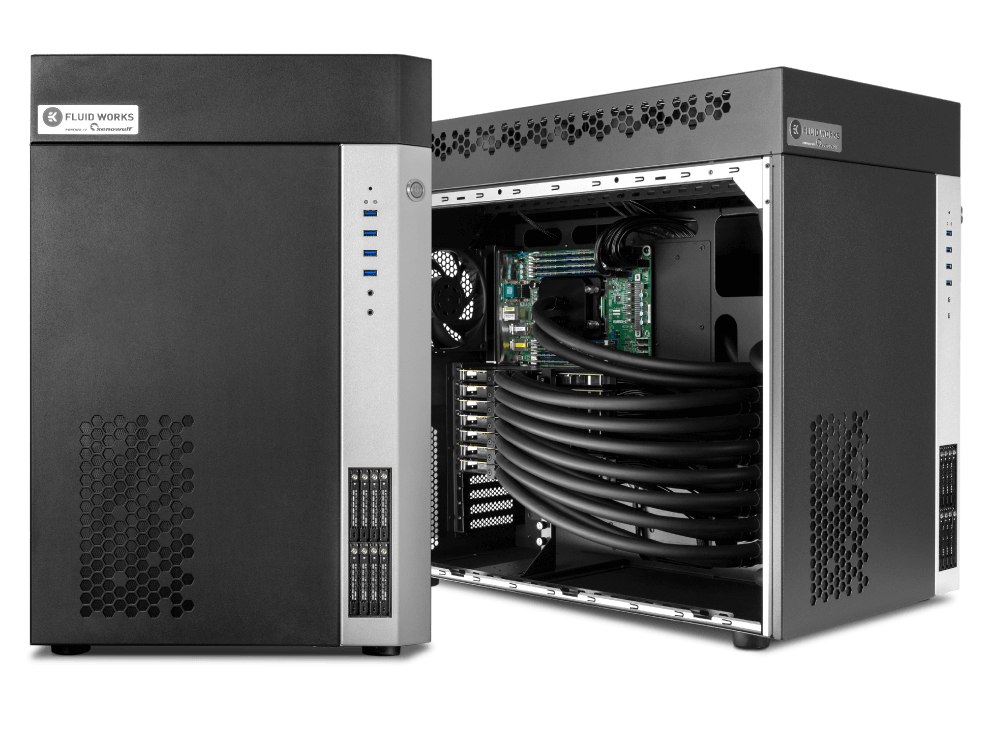 EK Fluid Works S5000
from $23,151
ASUS Pro WS WRX80E-SAGE SE WIFI
AMD Threadripper Pro 3975WX
256GB ECC/REG memory; 3TB SSD storage
4x NVIDIA RTX 3090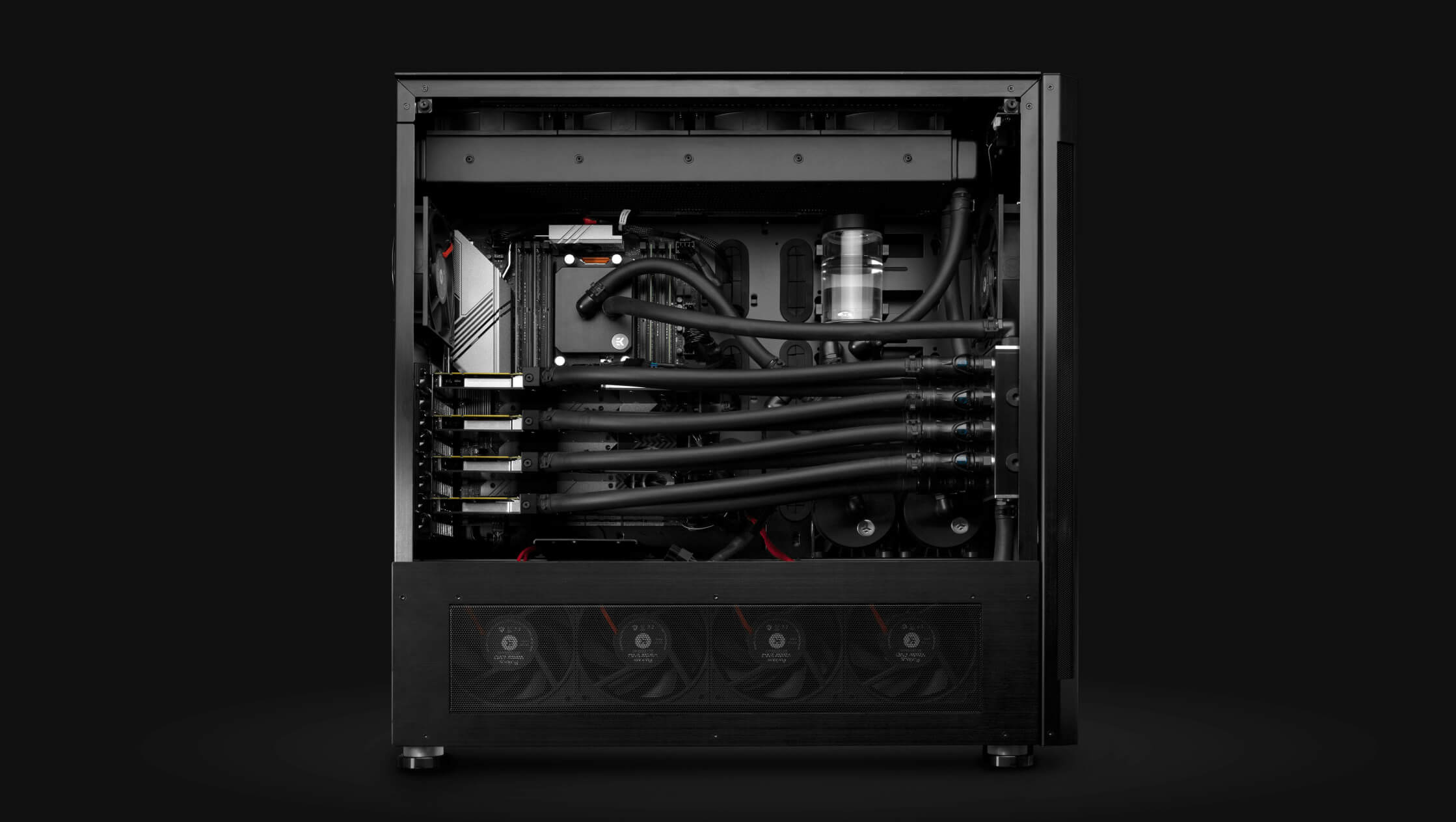 Whisper Quiet No Matter the Workload
It doesn't matter if you are actively molding your next masterpiece or tasking your computer with intensive rendering, the EK Fluid Works workstations will stay cool and quiet. With support for up to 4 GPUs and the latest AMD Threadripper CPUs all liquid-cooled, there is no shortage of cooling or computational power.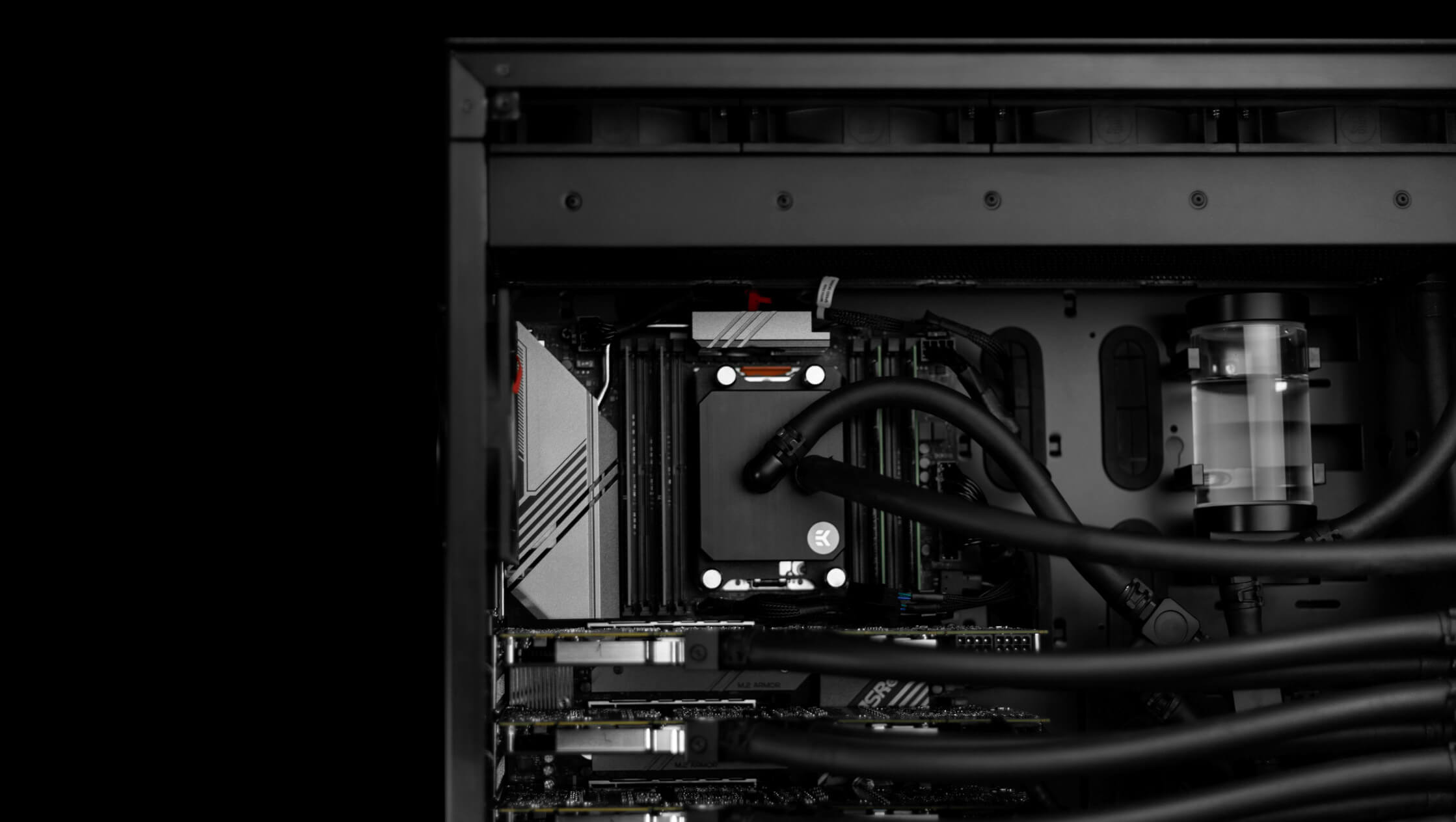 Reliability is the Name of the Game
EK Fluid Works Studio series workstations utilize industrial-grade materials and liquid cooling components for long and reliable service life, free of leaks and malfunctions.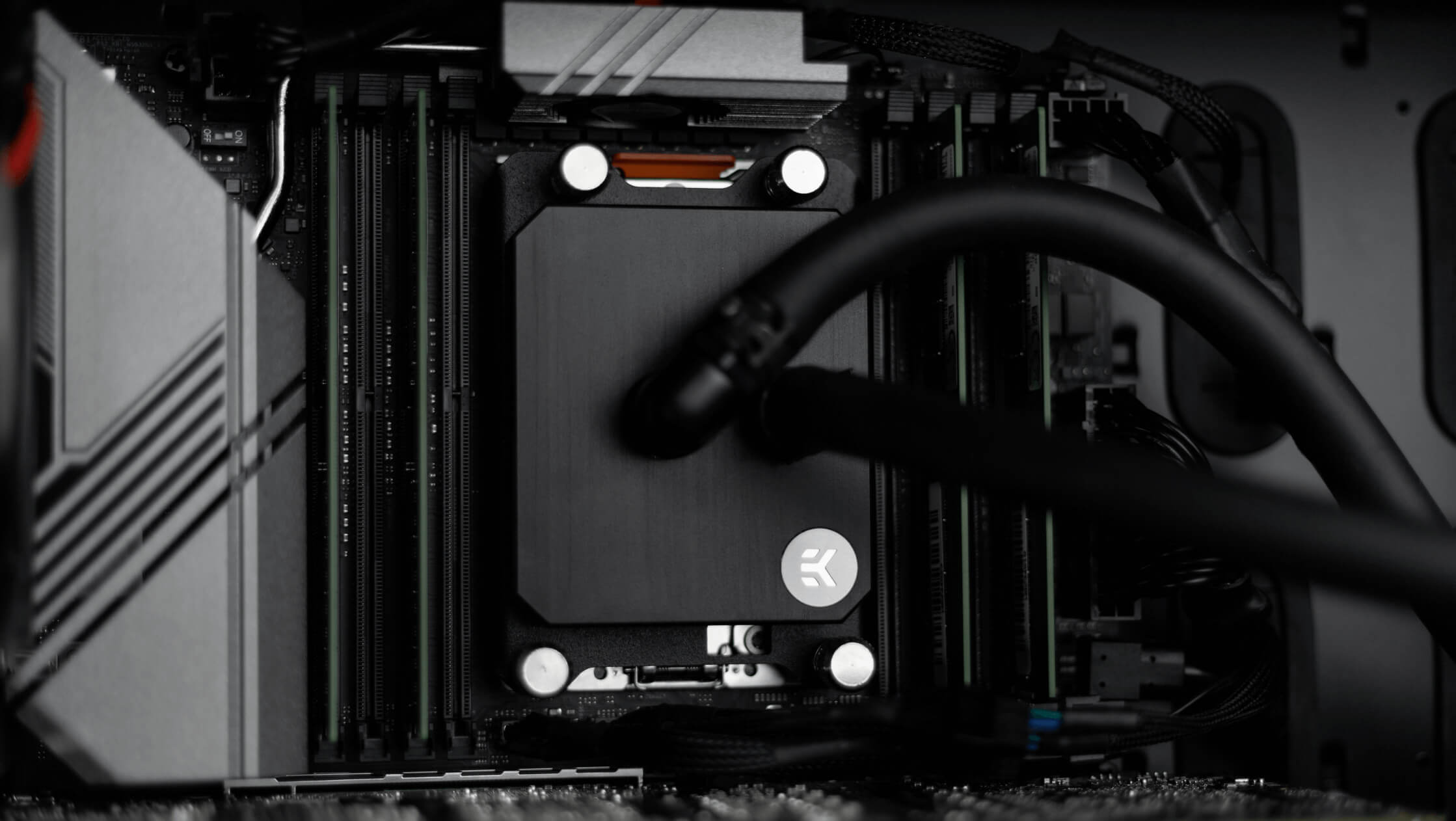 Premium Quality and EK's Renowned Design Philosophy
All of the water blocks utilized in the EK Fluid Works Studio series workstations are made out of the highest-grade aluminium and feature EK's latest cooling engine for optimal heat transfer, performance, and low coolant flow restriction.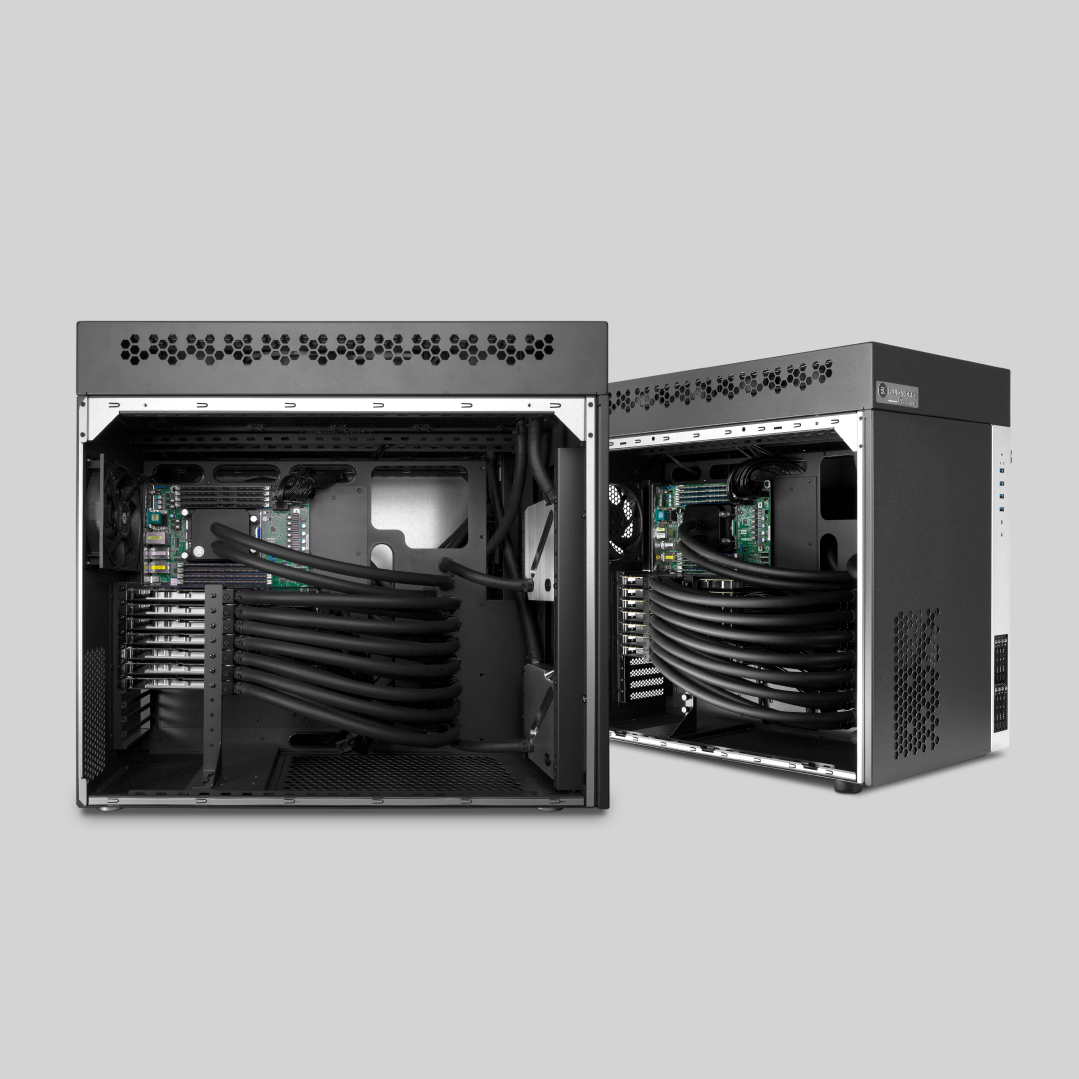 Configure your 3D modeling workstation to suit your needs
Our workstation configurator is at your disposal to customize the perfect PC for 3D modeling for your needs.
If you need extra help, our liquid cooling experts are always happy to lend a hand.
Configure Now
FAQ
How does liquid-cooling benefit 3D rendering?

Liquid cooling has many benefits, with little to no drawbacks. It is substantially more efficient compared to air, allowing the radiator cooling fans to spin at a lower RPM, producing less noise pollution in the work environment. It is particularly effective at removing heat from dense CPU and GPU arrays, allowing for lengthy 3D modelling and rendering sessions without any risks of thermal throttling.

For more information, follow the link to our blog "Why Liquid Cooling" where we explore the finer details.

Can I customize my 3D modeling workstation?

If you are not satisfied with our prepared selection of 3D modelling computers, you can further adapt them to suit your particular workflow and tasks. They can be loaded up with very high-core count CPUs like the AMD Threadripper 3990X, 128GB of DDR4 RAM and up to four Nvidia RTX 3090 GPUs.

If you are having a hard time choosing the best computer configuration for 3D modelling, let our experts lend a hand.

What are the upgrade paths?

You don't have to go for all the "bells and whistles' right from the get-go. You can purchase a more basic configuration with just one liquid-cooled GPU and a more modest amount of RAM and upgrade at a later date. We provide pre-assembled and pre-filled GPUs that are plug and play thanks to our industrial-grade dripless QDC. That way you can easily increase the computational power of your EK Fluid Works workstations as your workload expands.

In the event of component failure, how would I service my workstation?

In the unlikely event that one of the GPUs fails, it can be easily replaced with a pre-assembled and pre-filled GPU. You would simply disconnecting the dripless QDC, take out the faulty GPU, insert the replacement GPU, and reconnect the tubing. It is a straight-forward and hassle-free affair.

Is liquid cooling safe and reliable?

All the components and materials used in the construction of our EK Fluid Works cooling systems are of the highest quality.

All of the tubing is made out of automotive-grade EPDM that is resistant to considerably higher temperatures and degradation levels than it will ever experience in a desktop computer environment.

Premium gaskets and high-purity aluminum are utilized in the manufacture of all the water blocks to ensure a long and leak-free service life.

Industry-proven, redundant Xylem D5 pumps are entrusted with pumping the coolant to all of the vital components of the liquid cooling loop.

We're Here to Help
If you're having a tough time choosing the right workstation for your 3D modelling needs, our experts are but a click away.
Request a free consultation now.
Ask an Expert