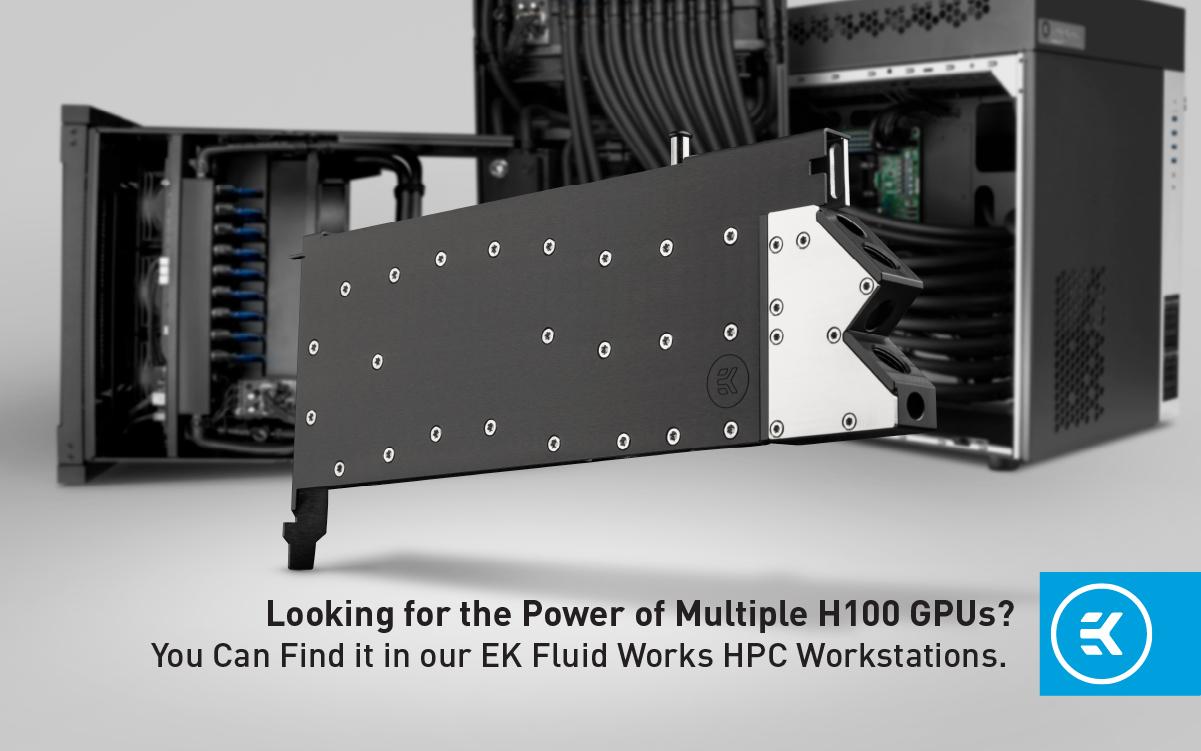 EK Fluid Works Enhances Portfolio With NVIDIA H100 GPU Integration
10/11/2023 1:19 PM
We are excited to introduce an expansion in hardware support for EK® Fluid Works servers and workstations, featuring the integration of the state-of-the-art NVIDIA® H100 PCIe Tensor Core GPU. NVIDIA's latest release, celebrated for its remarkable performance, scalability, and security across various workloads, has found its ideal home within our Fluid Works servers and workstations.
At EK Fluid Works, we're committed to sustainability, and that's why we've transformed our systems into more eco-friendly platforms. This aligns with our dedication to a greener approach and unlocks the full potential of Large Language Models (LLM), machine learning, and AI model training. EK Fluid Works systems are now the top choice for those in search of the unleashed power of NVIDIA H100 Tensor Core GPUs, offering an impressive array of efficiency benefits:
Unparalleled returns on investment
The lowest total cost of operation (TCO/OpEx)
Minimal additional capital expenditure (CapEx)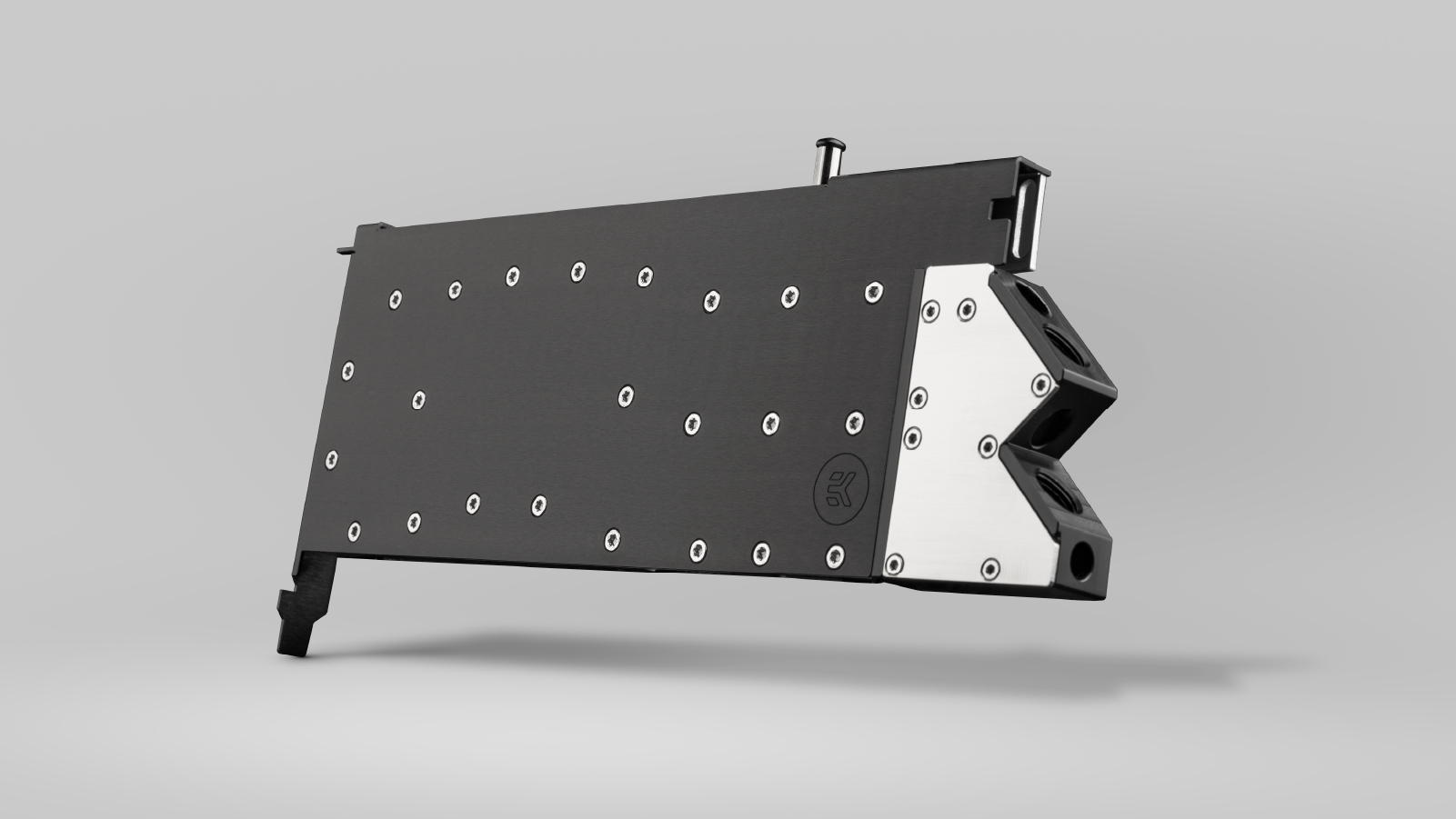 Boosting AI Workloads With H100 GPU Performance
In terms of performance, the H100 GPU surpasses its predecessor, the NVIDIA A100, by an astonishing factor of five. With its PCIe variant equipped with a substantial 80GB of HBM2e memory, this formidable GPU stands as a powerhouse, boasting remarkable specifications that excel in artificial intelligence and deep learning applications. Its exceptional performance, driven by fourth-generation Tensor Cores, is evident in its:
FP8 Tensor Core of 3,026 TFLOPS
FP16 Tensor Core of 1,513 TFLOPS
FP32 Tensor Core of 756 TFLOPS
FP64 Tensor Core of 51 TFLOPS
Ensuring Design Language Consistency
To complement the next-gen GPU and manage its impressive 350W of thermal dissipation, we've developed the EK-Pro NVIDIA H100 GPU WB. This innovative solution adheres to the same design language as other water blocks in our data center portfolio:
Durable high-purity materials
Open Split-Flow cooling engine
CNC-milled microchannels with minimal hydraulic flow resistance
EPDM rubber seals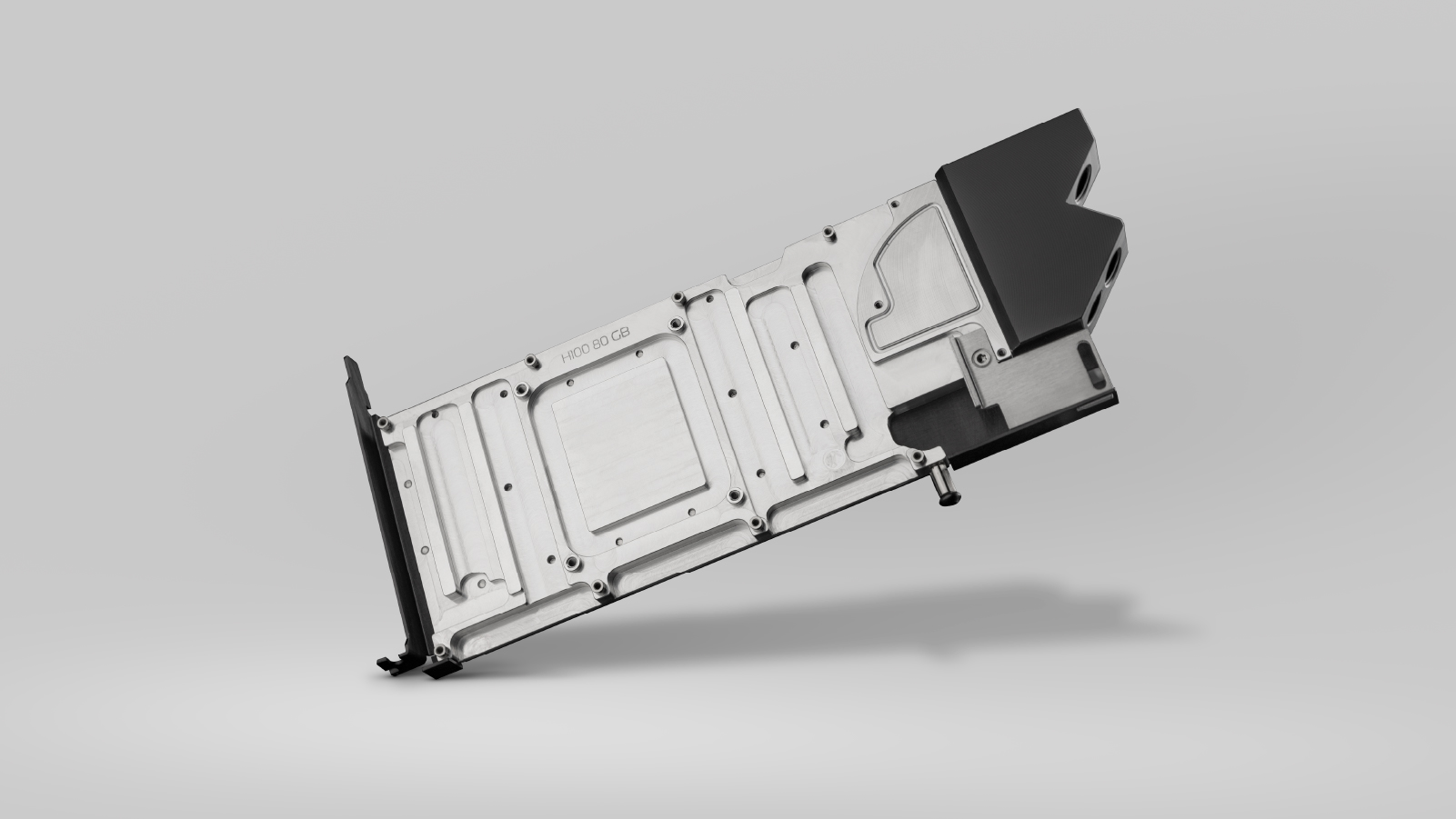 Cooling Solution for Maximum Efficiency
Our liquid cooling solution, exemplified by the water block's exceptional thermal performance, significantly reduces GPU core and VRAM operating temperatures, even during extended, high-intensity workloads. This, coupled with its robust construction and leak-free guarantee, ensures an extended service life with uninterrupted 24/7 GPU operation, empowering users to accelerate performance and maximize profits.
Furthermore, our system boasts an impressive 560GB of total VRAM with a clock speed essential for running AI models without performance bottlenecks. This, combined with the low hydraulic flow resistance, has enabled us to support up to 7x NVIDIA H100 PCIe Tensor Core GPUs in our high-compute-density rackmount servers and high-performance workstations.
Our advanced cooling solutions and system capabilities guarantee uninterrupted performance for users in AI and high-performance computing and extend the lifespan of critical hardware, ensuring a dependable, efficient, and cost-effective solution for your most demanding workloads.
High-Compute-Density Servers and Workstations
Our EK Fluid Works systems featuring the NVIDIA H100 PCIe Tensor Core GPU include:
Preorder Yours Today!
In the workstation realm, the EK Fluid Works X7000 of the Compute Series stands as the preeminent solution, offering the unique capability to house up to 7 GPUs in a single system - an unmatched feat in the market. Typically configured with 6x H100 GPUs alongside a display card like the RTX A5000, these passively cooled GPUs necessitate EK's liquid cooling solution for quiet and efficient cooling, ideal for office environments, even when ambient temperatures exceed 40°C. Fluid Works' high-performance computing (HPC) capabilities set it apart, offering computing power that exceeds traditional workstations.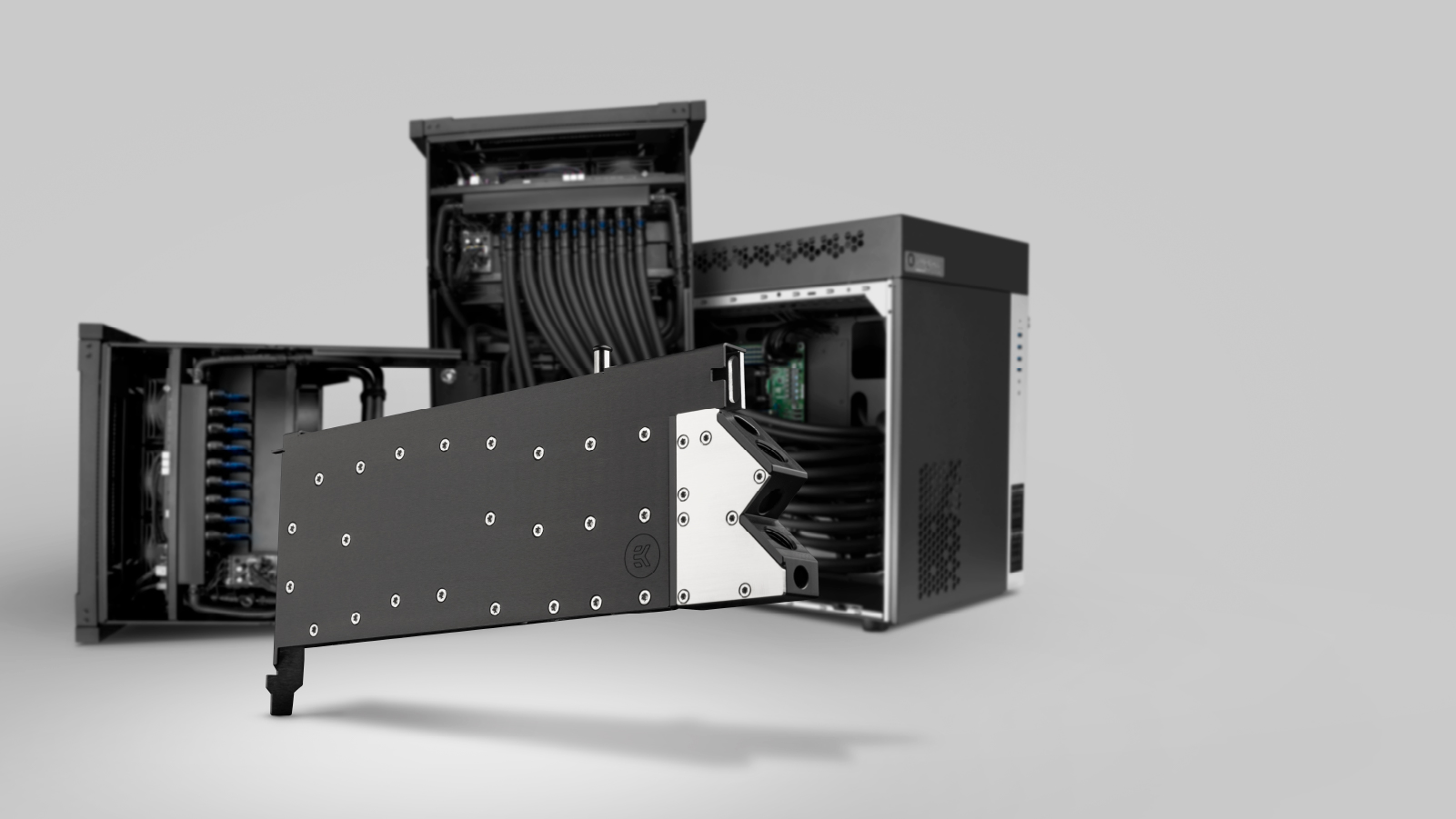 On the server front, exemplified by the X7000-RM of the Rackmount Series, systems can accommodate either 7x H100 GPUs at maximum capacity or 6x H100 GPUs alongside networking components. What sets these servers apart is their exceptional tolerance for higher temperatures, superior cooling power efficiency, and reduced power consumption while delivering equivalent or superior performance. Operating at temperatures below 50°C at 25°C ambient temperature, these servers maintain a substantial 30°C temperature advantage over air-cooled alternatives, guaranteeing peak performance and reliability.
Comprehensive Liquid Cooling Ecosystem
The EK Fluid Works liquid cooling ecosystem that supports the new GPUs consists exclusively of our finest components. Multiple radiators, manifolds, and high-quality EPDM tubing, combined with QDCs, ensure the optimal balance of performance, low noise output, and easy serviceability. Read more on why liquid cooling matters.
The NVIDIA H100 PCIe Tensor Core GPU can be found in the following EK Fluid Works systems:
EK Fluid Works Compute Series
EK Fluid Works Rackmount Series
Feel free to explore our Fluid Works configurator or contact our liquid cooling experts to help you find the right solution for your applications and unique workflow.
Future-Proof CPU Compatibility
As an additional advantage, our rackmount servers and workstations are poised to support the latest CPU platforms, including the AMD® EPYC™ Genoa/Genoa-X 9004 and Intel® Xeon® Scalable Sapphire Rapids, ensuring future-proof compatibility for cutting-edge computing needs.
Warranty and Servicing
A 3-year Parts and Labor Warranty covers all EK Fluid Works systems. During that period, we also provide servicing kits for regular maintenance of the liquid cooling systems and replace any failed components with prefilled assemblies (e.g., GPU and a water block with tubing and QDCs) for smooth and hassle-free operation with minimal downtime.
Availability
The EK Fluid Works systems, equipped with the latest NVIDIA H100 PCIe Tensor Core GPUs, are now available for pre-order, allowing you to reserve your spot in the queue for GPU availability.
Have a question?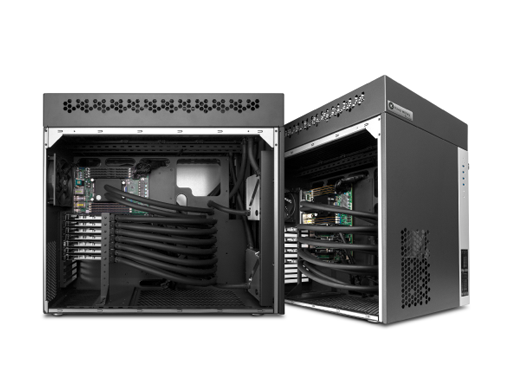 Get in touch