EK Fluid Works
Liquid-Cooled HPC Workstations & Professional Rackmount Servers
EK Fluid Works' Rackmount GPU Workstation W7000-RM and HPC GPU Server X7000-RM are powerful liquid-cooled systems tailor-made from the ground up to meet and exceed the rigorous performance requirements of HPC, rendering, AI, ML, Deep Learning, and Big Data processing tasks.
Housing up to 7 fully liquid-cooled GPUs and 2 CPUs, they offer unparalleled compute power per dollar, paired with the performance and thermal benefits only liquid cooling can provide.
Consult an Expert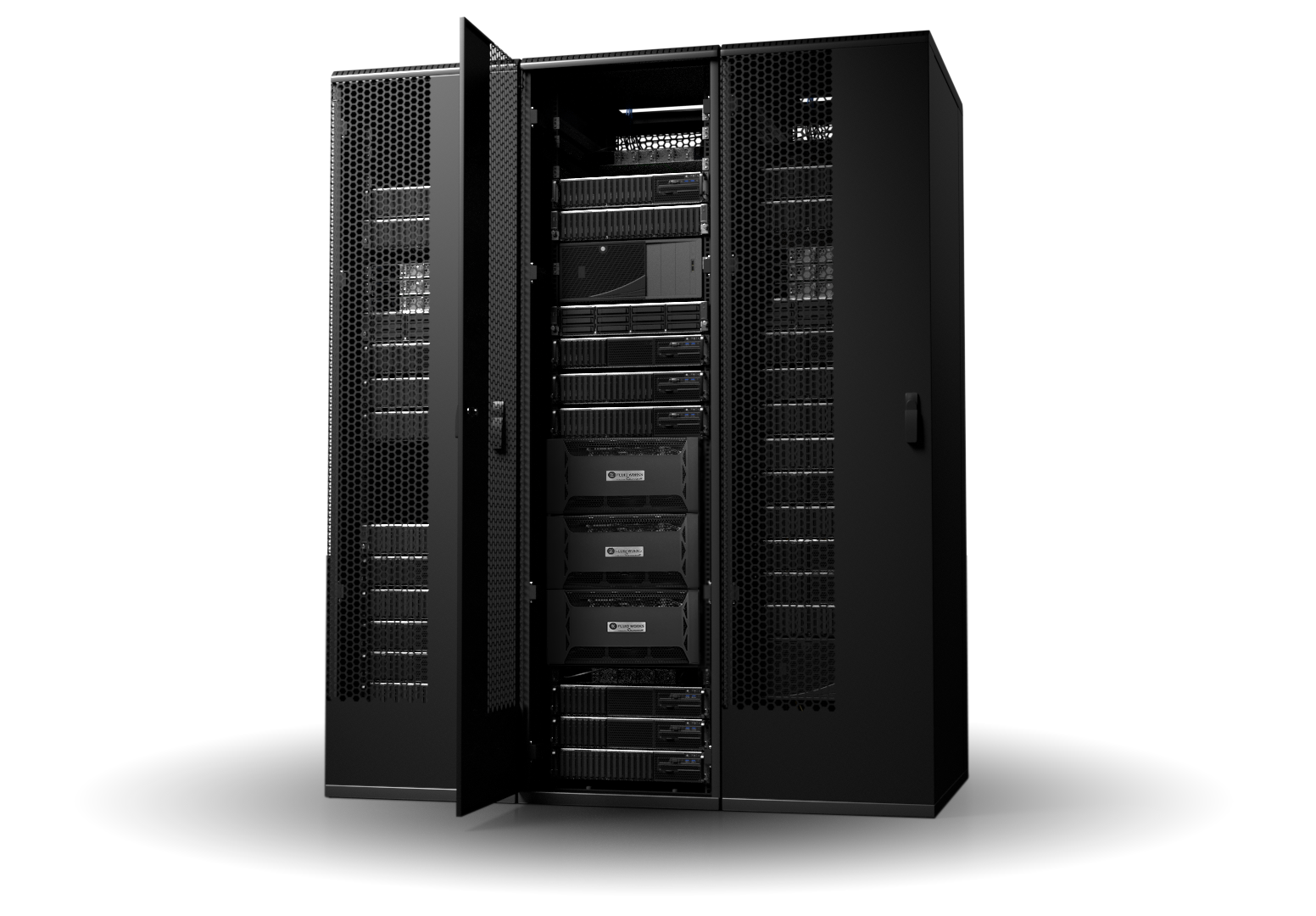 Workstation Models
W7000-RM Rackmount GPU Workstation
2nd & 3rd Gen AMD® EPYC™ CPUs
Up to 7x NVIDIA Quadro and Data Center GPUs (RTX 8000, RTX A6000, V100, A100)
Up to 7x NVIDIA GeForce RTX GPUs (RTX 3080, RTX 3090, and RTX 4090*)



*A total of 6x RTX 4090 GPUs is supported per chassis. Please contact us through the Ask an Expert form if you require more GPUs and higher densities.
5U rackmount EK/xenowulf custom design
Professional-Grade
Liquid-Cooled CPU
Liquid-Cooled GPUs
Quick Disconnect Couplings (QDC) for expandability
Configure & Buy
X7000-RM HPC GPU Server
2nd & 3rd Gen AMD® EPYC™ CPUs
5U rackmount EK/xenowulf custom design
Professional-Grade
Liquid-Cooled CPU
Liquid-Cooled GPUs
Quick Disconnect Couplings (QDC) for expandability
Configure & Buy

High-Performance, Reliability, and Scalability in Focus
X7000-RM HPC GPU Server and W7000-RM Rackmount GPU Workstation are fully liquid-cooled and optimized for Data Scientists and Researchers who deploy ML, AI, and Deep Learning-heavy computations. With EK's turnkey solutions, having your own test environment, or upgrading from an aging server in the laboratory, has never been easier.
Reliably low operating temperatures no matter the workload
The X7000-RM model features triple 360mm high-efficiency radiators with 6 server grade fans capable of dissipating an incredible amount of heat generated by the top-tier configurations.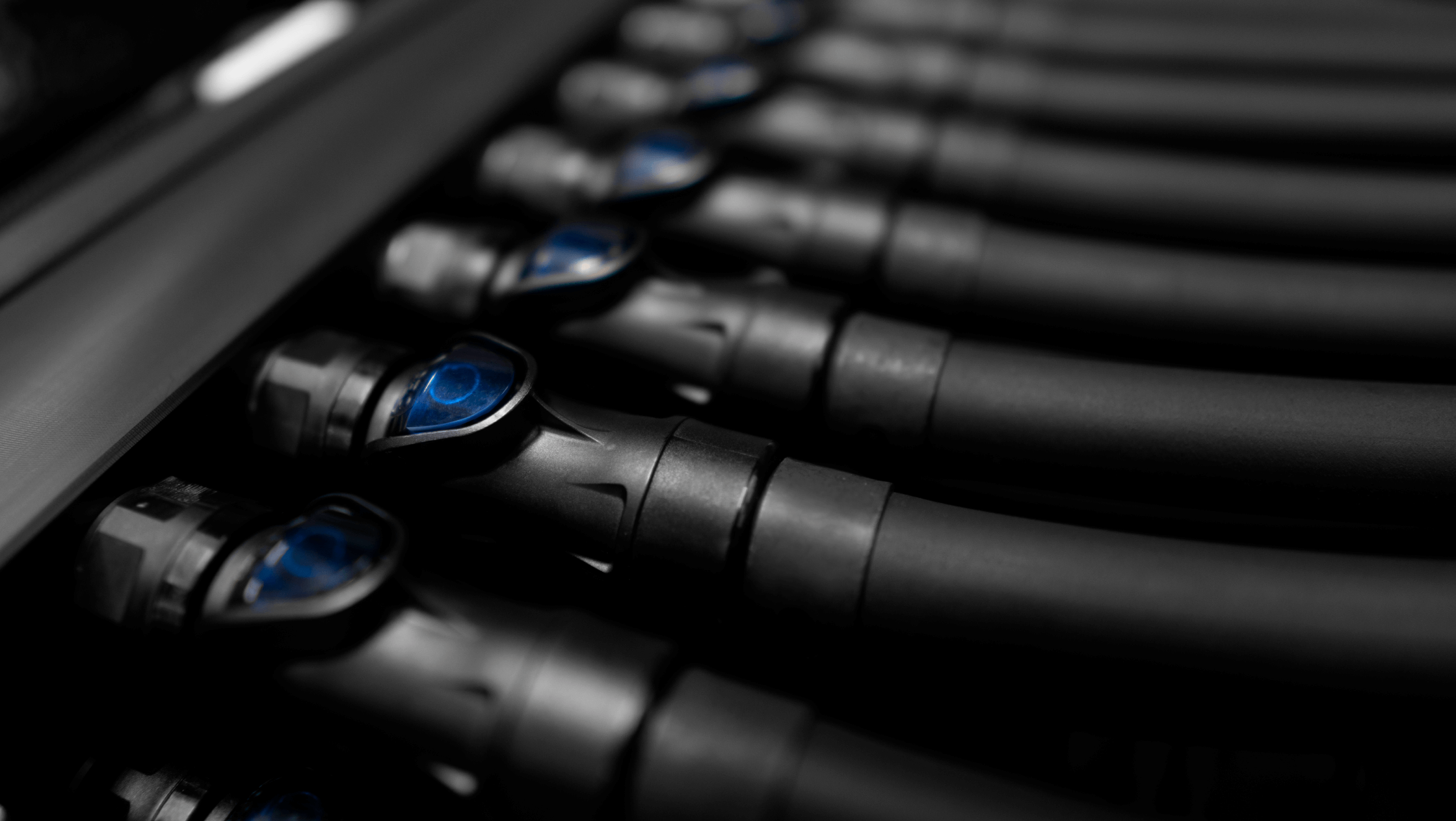 Industrial-Grade QDC for Optimal Flexibility
High-quality, dripless CPC Quick Disconnect Couplings for quick and easy upgrades and servicing of any of the 7 GPUs in the server.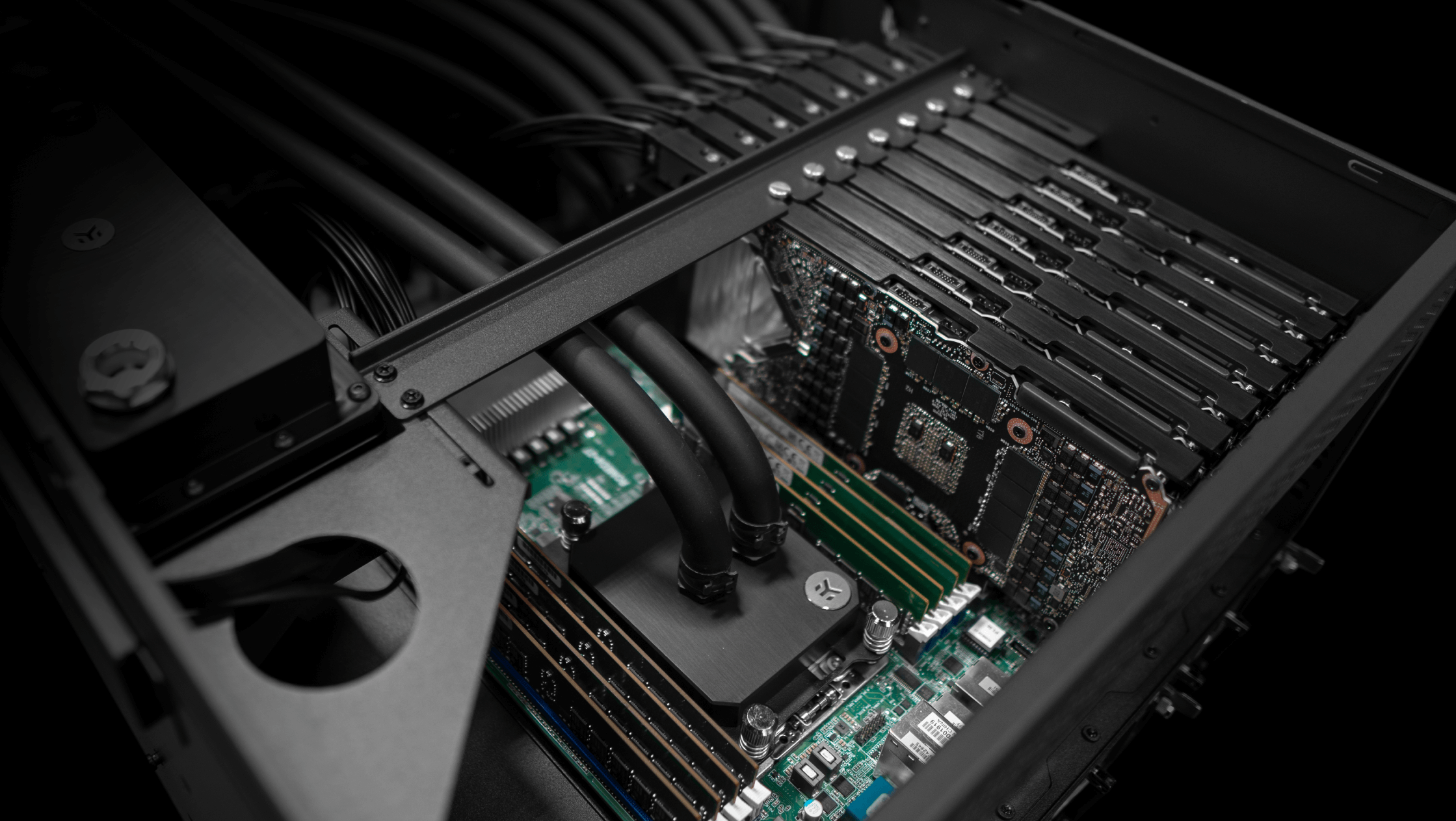 Unrivaled Compute Density
A top-of-the-line Compute Series X7000-RM server configuration with 7 liquid-cooled GPUs.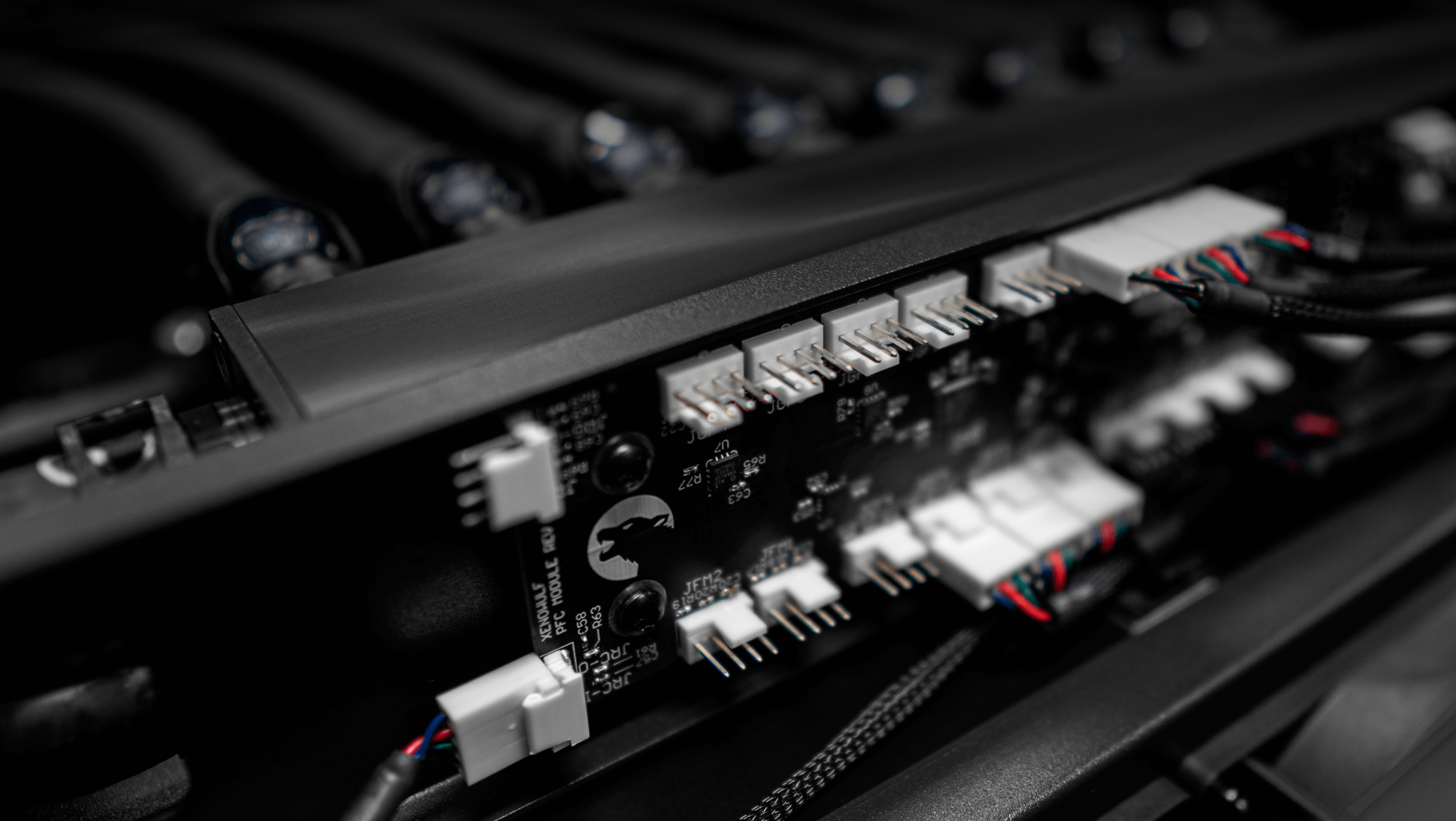 Ai Controlled Subsystems
Effectively setting up and controlling the various fans, pumps, and subsystems of a server can be a daunting task. That is why we have created a custom controller capable of adjusting the fan and pump curves on the fly for a perfect balance of noise and performance.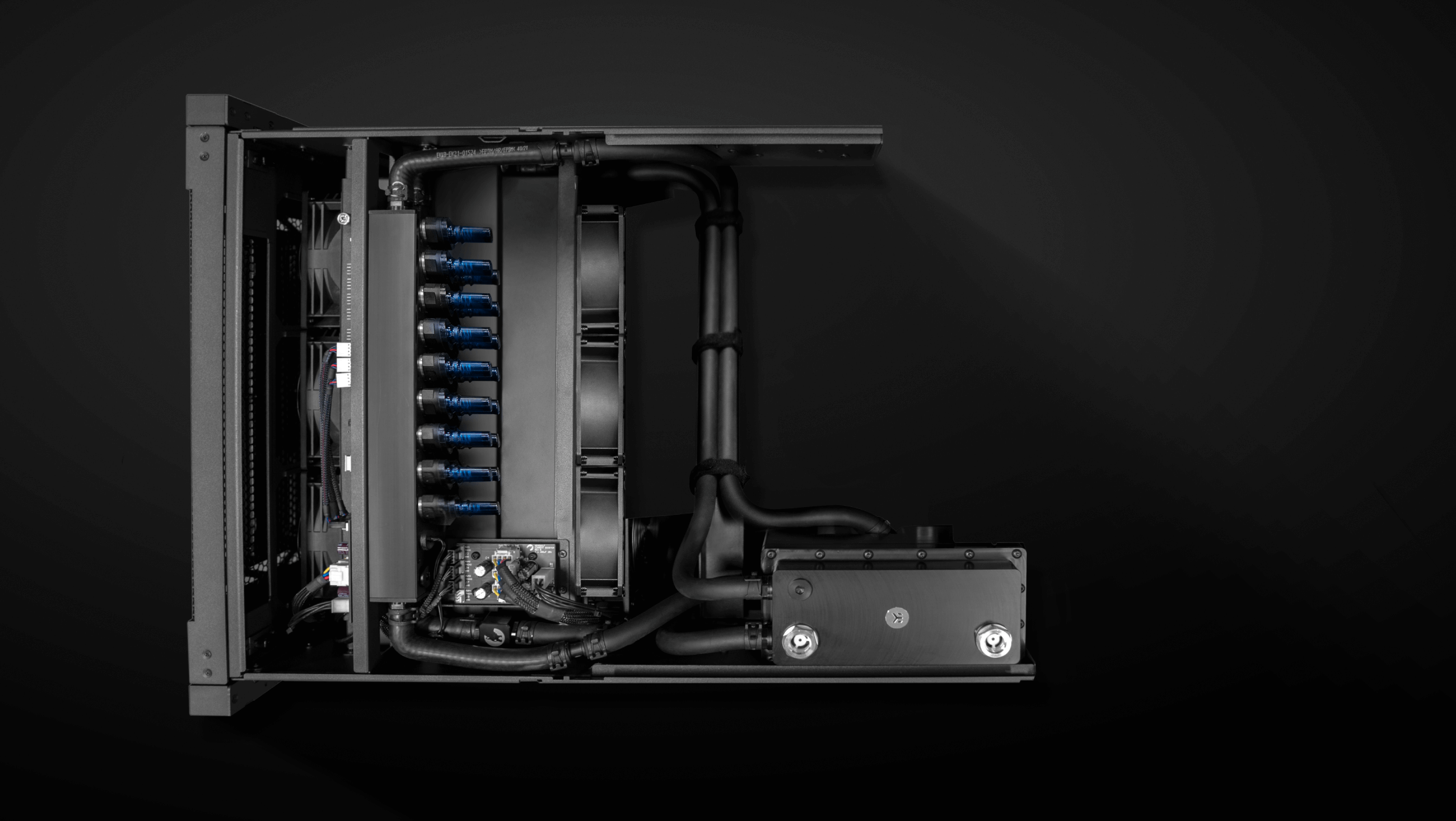 Easy Maintenance
The top priority is ensuring that the liquid cooling loop is operational at all times. Besides the redundant pumps, the entire liquid-cooling module can be disconnected from the chassis for maintenance or quickly and easily replaced with a fresh one.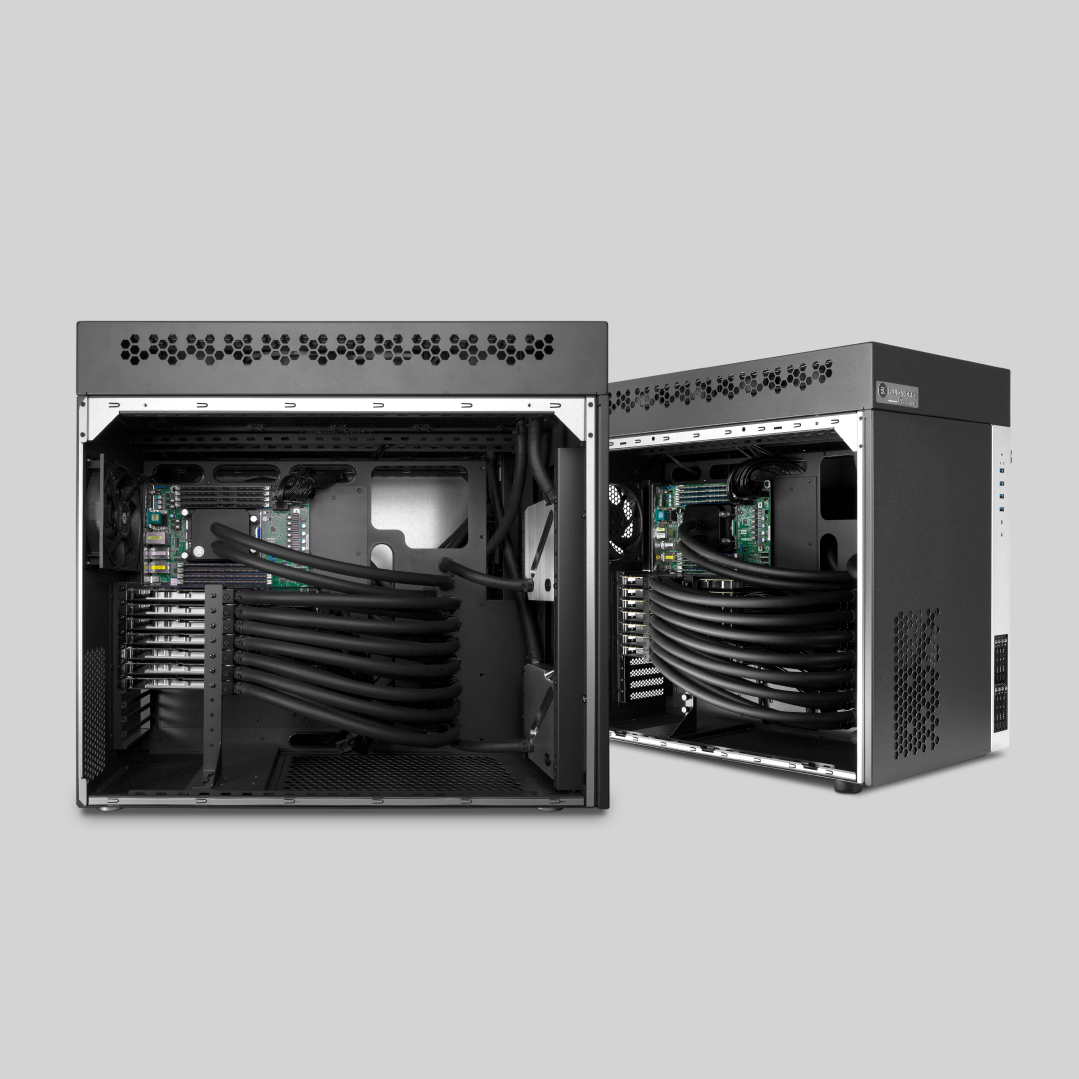 Configure Your HPC GPU Server or Rackmount GPU Workstation
Use our intuitive workstation/server configurator to easily select the right components to get a system that suits your unique workflow needs!
If you need extra help, our liquid cooling experts are always happy to lend a hand.
Configure Now
FAQ
How does liquid cooling benefit my Data Science and Research workflow?

Liquid cooling has many benefits with little-to-no drawbacks. It is substantially more efficient than standard air cooling, with drastically lower noise output and temperatures. And best of all, it boosts performance, making your system up to 25% faster! No matter the intensity or the deadline of your design project, you can count on the full power of the EK Fluid Works workstations and servers to be at your disposal.

For more information, visit "Why Liquid Cooling" where we explore the finer details of water cooling benefits.

Are HPC GPU Server and Rackmount GPU Workstations suitable for my workflow?

These EK Fluid Works systems are highly customizable and can be adapted to suit your particular workflow and tasks. They can be loaded with very high core count CPUs like the AMD Epyc 7713P, 2TB of ECC/REG DDR4 RAM, and up to 7 Nvidia GPUs (RTX 4090 for the Workstation and RTX A6000/6000 ADA for the GPU server version). Thanks to EK's industry-acclaimed liquid cooling, you won't find them lacking computational "horsepower," as they are all steadily kept at optimal operating temperatures.

What are the upgrade paths?

You don't have to go for all the "bells and whistles" from the get-go. You can purchase a more basic GPU configuration and a more modest amount of RAM and upgrade later. We provide pre-assembled and pre-filled GPUs that are plug-and-play thanks to our industrial-grade dripless QDCs. This allows you to quickly increase the computational power of your EK Fluid Works Rackmount server as your workload expands.

In the event of a component failure, how would the servicing be performed?

In the unlikely event that one of the GPUs fails, it can be easily replaced with a pre-assembled and pre-filled GPU. You would simply disconnect the dripless QDC, remove the faulty GPU, insert the replacement GPU and reconnect the tubing. It is a straightforward and hassle-free affair.

If there are any issues with the liquid cooling system, the entire liquid cooling module can be disconnected from the rest of the chassis and replaced with a fresh one within minutes. Thus minimizing any potential downtime.

Is liquid cooling safe and reliable?

All the components and materials used in the construction of our EK Fluid Works cooling systems are of the highest quality.

All the tubing is made of automotive-grade EPDM resistant to considerably higher temperatures and degradation than it will ever experience in a desktop computer environment.

Premium gaskets and high-purity aluminum are utilized to manufacture all the water blocks to ensure a long and leak-free service life.

We're Here to Help
Let our experts help if you have difficulty choosing a suitable workstation configuration for your unique workflow needs.
Request a free consultation now.
Ask an Expert