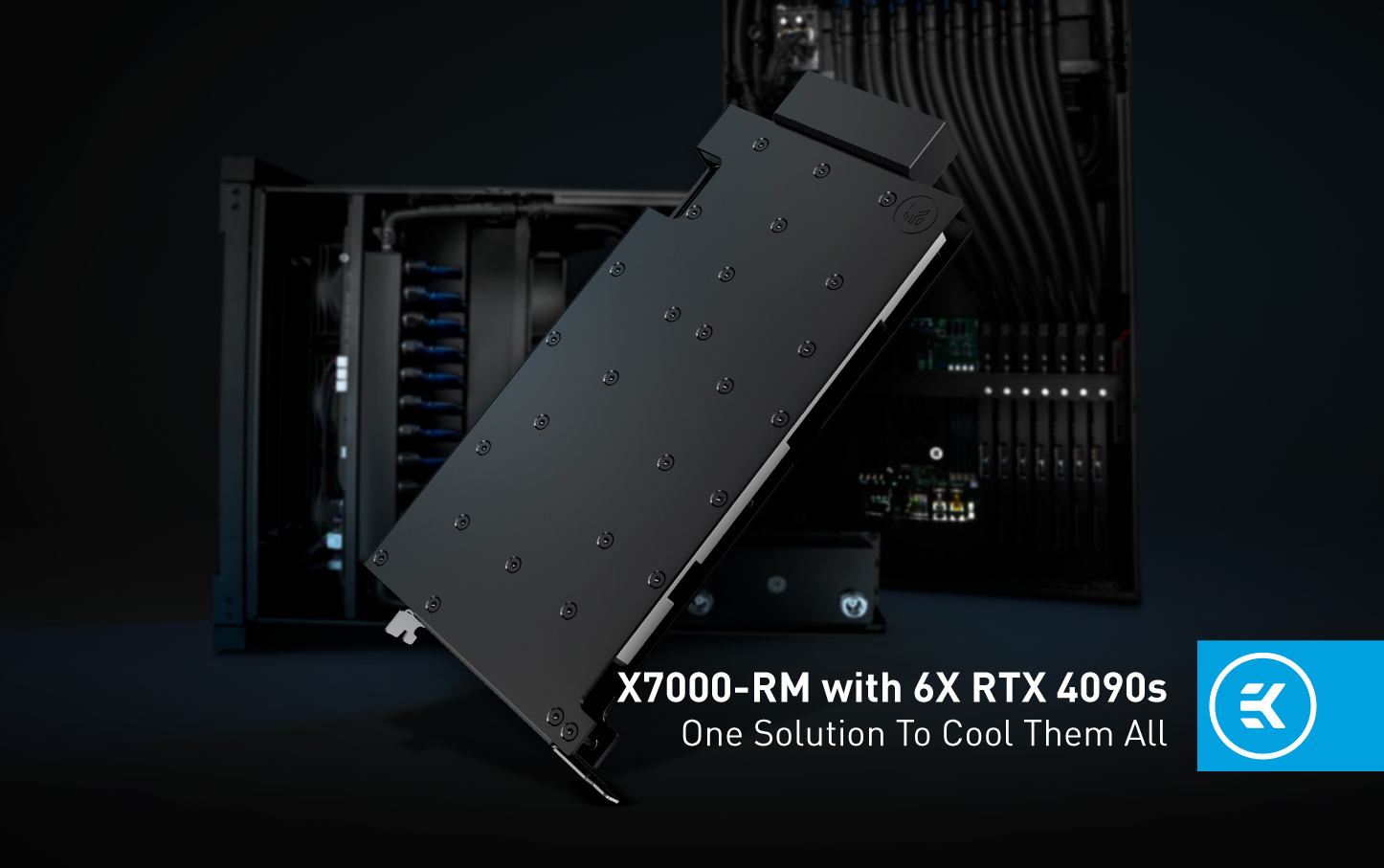 X7000-RM WITH 6X RTX 4090s - ONE SOLUTION TO COOL THEM ALL
12/19/2022 9:53 AM
EK, the leading PC liquid cooling solutions provider, bolsters its lineup of EK Fluid Works Compute Series X7000-RM GPU accelerated servers with the new NVIDIA GeForce RTX 4090 water block. This highly engineered water block enables the X7000-RM platform to feature up to six RTX 4090s in a single chassis with a fully self-contained liquid cooling system.
Explore EK Fluid Works Compute Series X7000-RM

Rock Solid Performance and Reliability
The water block coldplate is machined out of high-quality aluminum alloy, channeling the cooling liquid over all critical parts of the GPU, like the core, VRM (voltage regulation module), and VRAM, ensuring optimal operating temperatures. The Open Split-Flow cooling engine directly cools the GPU core and utilizes CFD-optimized CNC-machined microchannels for minimal hydraulic flow restriction. The top part of the water block is machined out of aluminum with minimal thickness to accommodate the single slot requirement without compromising the overall integrity of the assembly. The water block is sealed with EPDM rubber seals, ensuring a long service life free of leaks.

The uniquely designed X7000-RM chassis features extra space above the GPU stack, allowing it to effortlessly house the wider PCB GPUs like the RTX 4090. The water block itself is equipped with a rack-style machined POM terminal for easier tube routing inside the chassis. Completing the updated high-performance solution are new custom-made cables capable of supporting the higher power demand of the RTX 4090 GPUs, free from any "melting connector" issues.
The PSU setup was completely overhauled, boosting the total power capacity by over 1500W to accommodate up to six RTX 4090 GPUs and the latest generations of Intel and AMD CPUs. Reliability has not suffered, and the X7000-RM still supports an N+1 redundant PSU scheme.
Great care was taken to ensure proper cooling of the high-performance GPUs and CPU. EKs renowned liquid cooling solution maintains sub-60°C operating temperatures regardless of workload intensity or duration. The manifold and CPC QDC implementation enables quick and easy upgradeability and service in the event of a component failure.
Explore Other Fluid Works Solutions

Warranty and Servicing
The EK Fluid Works Compute Series X7000-RM is covered by a 3-year Parts and Labor Warranty. During that period, EK also provides servicing kits for regular maintenance of the liquid cooling systems and replaces any failed components with prefilled assemblies (e.g., GPU and water block with tubing and QDCs) for smooth and hassle-free operation with minimal downtime.
The EK Fluid Works X7000-RM, featuring the new NVIDIA RTX 4090 GPUs, is available for pre-order and expected to start shipping on the 1st of January, 2023.
Request a Quote Today!
Have a question?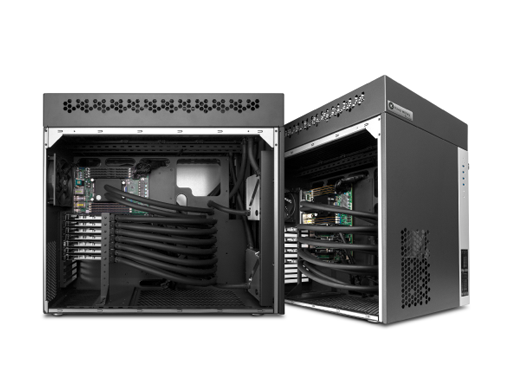 Get in touch